Harrisburg, PA: Each year, in October, advocates, survivors, and supporters recognize October as Domestic Violence Awareness Month (DVAM).
This October, PCADV is partnering with the National Network to End Domestic Violence (NNEDV) and other state and territorial coalitions across the nation to start a coordinated national conversation about domestic violence and how we can all contribute to changing the narrative on this overshadowed, but fundamental topic.
More prevalent than most realize, one in four women and one in seven men will experience domestic violence in their lifetimes. Anyone, regardless of gender, race, sexual identity or orientation, or socioeconomic status, can become a victim of domestic violence. This year's campaign theme, #Every1KnowsSome1, strives to highlight how common domestic violence is and that it is more than physical violence. Domestic violence is also emotional, verbal, and financial abuse.
Domestic violence sometimes turns lethal. In Pennsylvania in 2020, 109 victims lost their lives to domestic violence. This number includes 59 females and 50 males. Additionally, there were 32 perpetrator deaths. In the last 10 years, more than 1,500 victims and perpetrators have died from domestic violence-related incidents in Pennsylvania. The Pennsylvania Coalition Against Domestic Violence's (PCADV) annual Fatality Report has been the single most reliable source for information about domestic violence-related deaths in Pennsylvania for more than 20 years.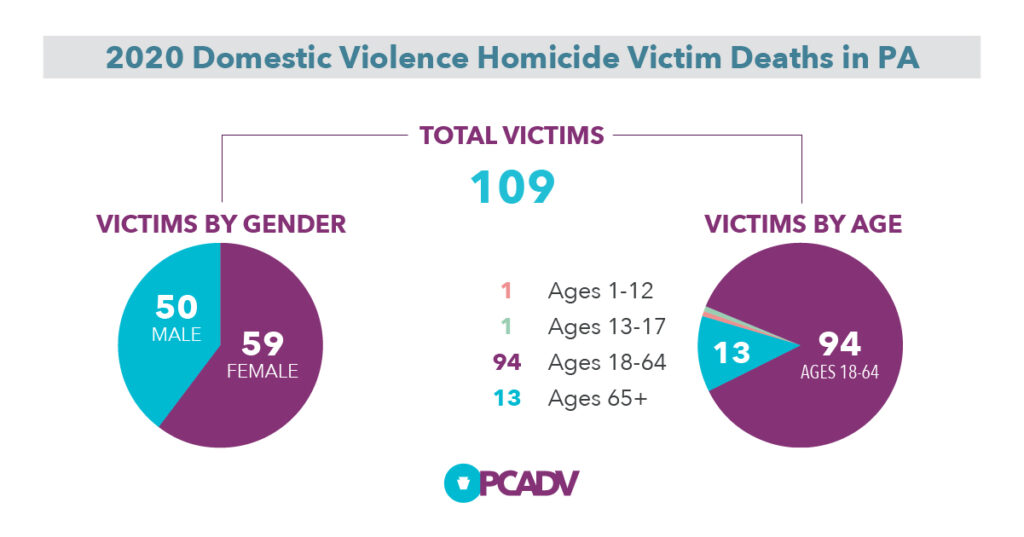 Throughout October, PCADV and NNEDV will be sharing content on their social media channels to help raise awareness and educate the public on the complex dynamics of domestic violence. A week of action is planned for October 18 – 24, 2021 designed to engage advocates, partners, and the public in starting a national conversation. The Pennsylvania State Capitol lights will turn purple the week of October 18 in recognition of DVAM.
Free and confidential help is available 24/7 for individuals experiencing domestic violence. Those seeking help may contact the National Domestic Violence Hotline at thehotline.org or 1.800.799.SAFE (7233) or visit PCADV.org/find-help/.