Each year, in October, advocates, survivors, and supporters recognize October as Domestic Violence Awareness Month (DVAM). It provides an opportunity to remember victims of domestic violence, raise awareness of what domestic violence is, how to recognize it, and what we can all do to collectively prevent it. This fall, PCADV and the National Network to End Domestic Violence are leading a nationwide campaign for DVAM and GiveForDV to start a national conversation about domestic violence and how we can all contribute to changing the narrative around this overshadowed but fundamental issue.

More prevalent than most realize, one in four women and one in seven men will experience domestic violence in their lifetimes. Anyone, regardless of gender, race, sexual identity or orientation, or socio-economic status, can become a victim of domestic violence. This year's campaign theme, #Every1KnowsSome1, strives to highlight how common domestic violence is and that it is more than physical violence.
How to Get Involved
Do you want to help domestic violence survivors, but you aren't sure what you can do? Here's how you can get involved:
Participate in the DVAM Week of Action, October 17-23
Find DVAM events happening in your community
Join the conversation! Share our DVAM education and awareness content on social media all month long. Don't forget to use #Every1KnowsSome1, and make sure you're following PCADV at: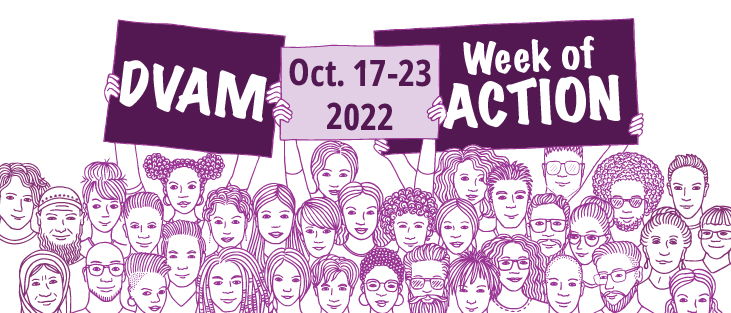 October 17: Media Monday
Journalists have a responsibility to cover domestic violence responsibly and survivors deserve for their stories to be treated with respect. Join us as we dive into helpful resources.
October 18: Twitter Chat Tuesday
Join us from 3:00-4:00 PM ET as we explore the National Resource Center on Domestic Violence (NRCDV)'s DVAM theme: "No Survivor Justice Without Racial Justice." More info here.
October 19: DVAM Day of Giving
Your donation helps ensure access to free services for all survivors of domestic violence across Pennsylvania, support statewide prevention efforts, and promote policy initiatives that support and protect survivors.
October 20: Purple Thursday
purple to show our support for survivors and our commitment to ending violence. Get the Purple Thursday printables, frames, and zoom backgrounds in our toolkit
October 21: Pay it Forward Friday
There are plenty of ways to support domestic violence survivors and advocates. We'll help you learn how you can take action online and in your community. Or find your local domestic violence program to learn about volunteer opportunities and donation needs near you!
October 22: Speak Up Saturday
Local, state, and federal policy is crucial to our work to end domestic violence, and we need your voice to join us. We'll tell you how to sign up and stay in the loop in our advocacy work.
October 23: Support Survivors Sunday
Every survivor deserves support, whether they choose to share their stories or not. Close out the week by learning how you can help create safety for the survivors in your life.
Other Key Dates
For Local Programs
Are you with a local domestic violence program looking to participate in the national DVAM/GiveForDV campaign? Sign up to participate in DVAM and GiveForDV and get access to the full toolkit!
Is your program hosting any events (in-person or virtual) this DVAM? Get them on the official DVAM event calendar! Submit your event for inclusion today!