We'll be highlighting members of the PCADV Board of Directors to help you get to know our leadership.
Brian Brooking, Board President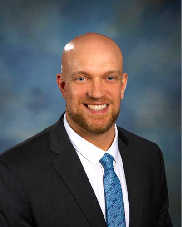 Brian is the Vice President of Mortgage and Consumer Lending at Woodlands Bank. He also is an advocate for domestic abuse survivors and the current Chair of PCADV's Board of Directors.
Brian first became interested in domestic violence work after seeing the impact PCADV was having through a local program in his community. He was impressed by the resources, assistance, and training PCADV provided to local programs, which allowed them to fulfill their missions. Brian says that by volunteering and supporting PCADV, he hopes that his time and support of PCADV helps in some small way to continue and strengthen this work at the local level.
When asked what he is most proud of during his tenure at PCADV, Brian says, "I think one of the most important accomplishments I have been a part of with my time on the Board is our transition to new Executive Director leadership. A change in leadership can have a profound impact on organizations, not only operationally but philosophically as well. The Board and Membership understood this and came together to create a plan and process to have a successful outcome. It was so important to me that we were transparent and collaborative with all the stakeholders involved with PCADV. I feel we were able to do that, which led us to Susan Higginbotham and a bright future for PCADV."
Brian continues to help move PCADV towards the future and sees an opportunity to expand PCADV's reach. While it is hard for him to say one of PCADV's initiatives is more important than another, he is particularly excited about the Economic Justice Initiative. Brian adds, "Working in the financial sector, I am familiar with some of the issues related to financial abuse and control. I have seen firsthand how an abuser can erase the independent financial stability and success of a partner. I believe we can further this initiative with community partnerships, as the impact of financial independence for individuals ripples across the community."
Looking ahead, Brian says that his wish for PCADVs future is for the Coalition and its Member programs to continue to be leaders and innovators for the whole country in the DV arena. We agree that this is great outlook — and with Brian's leadership and support this goal is possible.