This blog was updated on March 9, 2023, after the release of the second part of the fourth season of "You."
Pop culture misses the serious reality
Heading into late 2018, if you asked someone if they knew who Penn Badgley was, they were likely to reference his character Dan Humphrey in the CW series "Gossip Girl."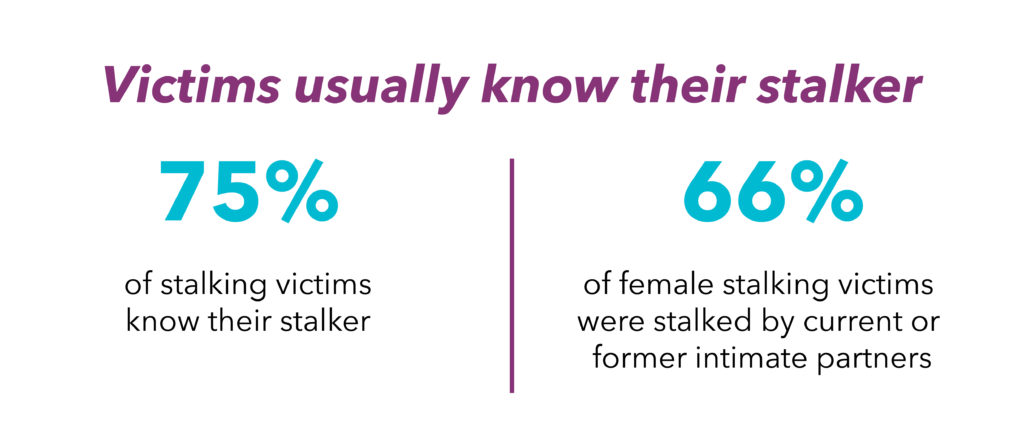 But that all changed once Netflix acquired the rights of "You" in December 2018.
The only thing was, the adulation that Badgley received for his work in "You," a series about a serial stalker based on the book of the same name by Caroline Kepnes, wasn't just for his acting, but it was based around the adoration for the dark, sinister, stalker he portrayed as Joe Goldberg.
What makes "You" different than the number of other stalking-themed shows and movies we've seen in the past, is that it's told through the eyes of the stalker, not the victims. Through Goldberg's eyes, he's not doing anything wrong, he's just trying to protect the people – in this case, love interests – he "loves" close and safe. Stalking is very much influenced by an abuser's desire to continue to exert power and control over a victim's life. By knowing where the victim lives, works and visits stalkers feel as if they continue to have total control over the victim's life – even after separation.
It's time to stop romanticizing stalking no matter how it's portrayed, and it's time to start taking stalking seriously by putting prevention steps in place
What the viewer should take away is that he's a sociopathic murderous stalker.
What many instead took away from the show, which released its third season in October 2021, is that they have an infatuation with the character.
Badgely has had back-and-forth conversations on Twitter with fans of the show – specifically around his character – to remind them that no, Joe is not the man of their dreams. It got to a point to where Badgley wanted to use the love his character was receiving as motivation as the show moved forward to show just how bad of a guy "Joe" really is.
What happened with Badgley in "You" is all too common in our society – we romanticize the concept of stalking, and it's been that way for years. Frequently used, what seem like subtle, innocent terms, such as stalking our ex, or even "I stalked this person on Instagram," are actually not-so-subtle or innocent at all.
In fact, when it comes to stalking, the phraseology all but ignores the fact that 3 out of 4 stalking victims know their stalker, with the most common relationship between the stalker and the victim being that of former intimate partners.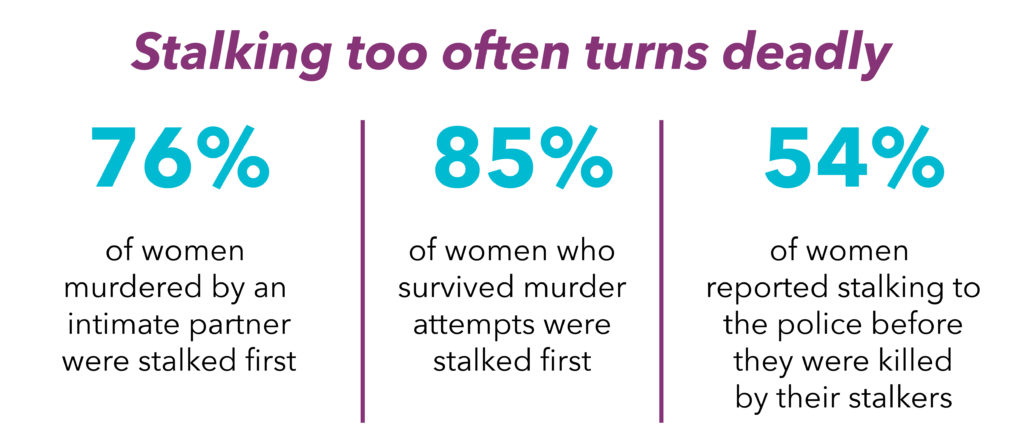 And that's what "You" revolves around. It shows Joe, a bookshop owner in New York before relocating to Los Angeles in Season 2, stalking his former and current love interests in Guinevere Beck (Elizabeth Lail), Candace Stone (Ambyr Childers), and Love Quinn (Victoria Pedretti), which highlights the real-life fact that 66 percent of female stalking victims were stalked by current or former intimate partners.
In Season 3, Love and Joe are married with their first child – Henry – but the newest season features both Joe and Love stalking their new suburb neighbors together and separately.
Joe is once again back to his stalking ways with his neighbor Natalie (Michaela McManus) and his new co-worker turned love interest Marienne (Tati Gabrielle).
Season 4 sees Joe overseas, taking on a new identity but we see the same behavior not only from him, but happening to him, too.
Throughout the series, Joe uses many different methods to stalk the aforementioned victims. In fact, of the common stalking tactics that the CDC lists on its site, Joe checks the boxes on all of them in "You."
Unwanted phone calls
Unwanted emails, instant messages, text messages, voice messages, or social media messages
Approaching a victim or showing up unwanted, such as at the victim's home, workplace, or school
Leaving strange or potentially threatening items for the victim to find
Watching, following, or tracking a victim
Sneaking into the victim's home or car and doing things to scare the victim or let them know the perpetrator had been there
Giving unwanted gifts
Using technology such as GPS, smartphones, apps, and other tools to stalk the victim without them knowing.  
Badgley told Vulture in a September 2018 interview that, "As compelled and interested as I am by the project as a whole and the character, I don't like it. I don't think anyone can comfortably say, 'Yeah, I like that guy.' It becomes more and more complicated, especially being the person who has to embody him. There's no way around it — Joe's not a great person."
And he's right, he's not a great – or even good – person. And Starr Bowenbank, of Elle Magazine adds that "Joe Goldberg is the worst" in her article "Penn Badgley Doesn't Want You to Stan His Psychopathic Character in Netflix's 'You'" article from January 2019.
But do you notice the word that was used in the headline?
Stan.
If we are talking about the romanticization of stalking, we have to look further back than just "You," despite its recent success.
The term Stan was coined back in 2000, thanks to the song "Stan" by Eminem, featuring British singer Dido. In the song, Eminem, who has a music catalog filled with songs that discuss violence against women, talks about an excessive fan and the dark, scary, obsession he has with the rapper. The term Stan in the song stands for stalking fan.
More than two decades later, the term is still used regularly, but not in a way that is bad, rather it's used to show adoration for an artist, movement, or person. To "Stan" something now means that you love and support it, despite its dark roots and actual meaning.
"You" and "Stan" are just two of the more prevalent examples of mainstream romanticization of stalking in our society, but it's been a concept that has been accepted and lauded for years and years.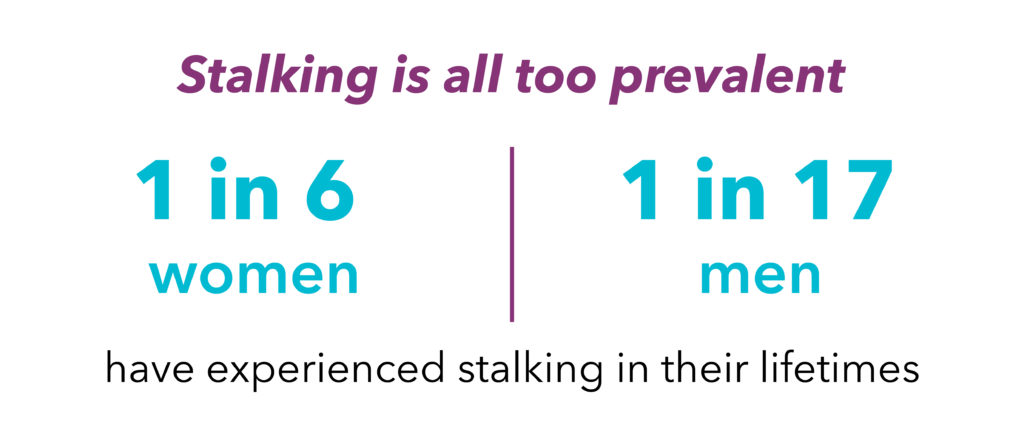 Furthermore, the similarity of stalking behaviors to many popular courtship rituals, allows for young people to interpret stalking behaviors such as possessiveness or jealousy, as affection, thus missing indicators of behavior that can escalate. This coupled with society telling us there is love and adoration in obsession and control of an intimate partner leads many to miss the signs of stalking before it is too late. 
The reality is, in the majority of stalking cases, domestic violence is involved, and stalking is often a precursor to more serious, deadly acts.
According to the National Center for Victims of Crime:
76 percent of women murdered by an intimate partner were stalked first, while 85 percent of women who survived murder attempts were stalked
89 percent of women and girls who had been physically assaulted before their murder were also stalked in the last year prior to their murder 
54 percent of women and girls reported stalking to the police before they were killed by their stalkers 
Stalking is common in our world, as 1 in 6 women and 1 in 17 men have experienced stalking in their lifetimes, with more than 7.5 million people in the United States alone experiencing stalking of some sort each year.
It's time to stop romanticizing stalking no matter how it's portrayed, and it's time to start taking stalking seriously by putting prevention steps in place:
Helping others define and recognize stalking behaviors
Mobilizing men and boys as allies in prevention efforts 
Creating and supporting safe environments within relationships, schools, and communities through programs and policies that promote healthy relationships
Anyone who is experiencing stalking or recognizes some of the behaviors mentioned above can visit our Find Help page for immediate resources.